Can a broken submissive, damaged by captivity and torture, learn to fly again?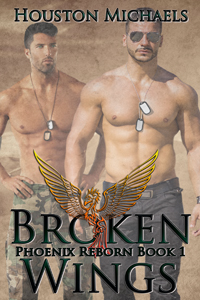 Broken Wings
Proud to have served his country, Gabriel O'Roarke returned from war unable to recognize the man he had become. While war was hell, it was the aftereffects that were slowly eating away at his soul. Returning to civilian life after surviving events that should have killed him, he struggles to adjust and find himself again. Suffering from PTSD, he is without hope, until a chance encounter with one of the men who saved his life changes things.
Gabriel never imagined Nickolas Tanner would be into the lifestyle, so running into him at a BDSM club is a surprise. The patient and caring Dom is exactly what Gabriel needs, but everything he fears. After suffering captivity, Gabriel struggles to let himself go, to submit to another man. He craves regaining that part of himself, but worries it is forever lost. Nickolas' steady domination gives him something he has thought lost long ago - hope.
Excerpt:
Watching Nick dress himself was also a form of sensual torture as the other man paused with his pants pulled up, but still unzipped.  He made a production of tucking his boxer covered cock into his pants and adjusting himself before slowly pulling up the zipper and slipping the button through the hole.  Gabriel wanted to reach out and pull the zipper back down, drop to his knees and suck the other man into his mouth.  Clenching his fists, he forced himself to not act on his impulse.
One of the hardest things he had been dealing with, besides the flashbacks and nightmares, was his impulse control.  Anything that allowed him to escape from his own thoughts, from his memories, was a possible addiction.
"You okay?"
Gabriel looked into Nick's eyes and could see that the other man knew exactly what he was doing.  "You are such a bastard," he gritted out between clenched teeth.  He could feel his nostrils flaring with each inhalation.
"Maybe.  But you are much stronger than you think you are."
"So this was all a fucking test?"
Nick shrugged, sighed, and ran a hand through his hair, the confident air dropping for just a moment.  "No Gabe, it wasn't.  Fuck man, you could easily become just as much an addiction for me as I am for you.  I like knowing you want to touch me, want to drop to your knees and suck my cock, but that you are stronger than the impulses attempting to drive you.  I told you last night, I crave a submissive who is strong willed, but chooses to let me care for him.  And every moment I spend with you, I find myself more and more drawn to you, until you're like a drug I need to survive."
Gabriel could feel tears welling in his eyes, but he fought them back.  He wasn't about to cry like a pussy just because Nick made him feel like maybe, just maybe, some of the broken pieces of him could be put back together again.
Origin Story
One of the things I enjoy reading about a book I enjoy is the origin story.  How did the author come up with the idea?  What sparked the story - was it a character?  A song?  A random thought?
Broken Wings, despite being inspired to some degree by the song, didn't actually originate from it.
Research
Needless to say, I would have been unable to write this story without researching PTSD (Post Traumatic Stress Disorder) also called PTSS (Post Traumatic Stress Syndrome).
Much of my research was done online, using various military and government websites (much like a returning hero or loved one might do to find out more).  I also read, from cover to cover, the book Combat-Related Traumatic Brain Injury and PTSD  (even though only a couple of chapters really applied to what I was needing).
Reviews
5 Stars from Beth of Open Skye Book Reviews:
"If you want a BDSM book that isn't all about pain, control and bizarre toys, than you will like this book. It is such a great blending of what the basics of BDSM are and how to live and survive PTSD. [...] Houston Michaels has set up a great storyline [...] I loved the character of Nick"
4 Hearts from Jen of Love Bytes Reviews:
"I loved these guys. I loved how Nick found ways to help Gabriel meet his needs and make progress, no matter how big or small. He was so understanding, and in being so, was the perfect fit for Gabriel. The BDSM scenes are pretty light due to Gabriel's many issues, but I loved watching him find peace and the pieces of himself he thought he had lost forever. This is a very promising start to a new series that I am really looking forward to continuing. This book was very well written, kept me turning pages and caring about these guys to the very end. Things were not glossed over, but they weren't dragged out too long either. I definitely recommend this if you love watching a damaged character come back to life, as this one fits that bill perfectly."
4 Hearts from Cindy of Love Bytes Reviews:
"The author did a great job here with the BDSM side of the story. I love the time the two men spend talking about what they both need and expect from each other and a lot of it rang true for me. [...] I also love how the author approached the subject of therapy and how it was a very necessary part of Gabriel's healing. I appreciate that there was no magical "sexual healing" for Gabriel and that Nick understood that he couldn't be Gabriel's savior, only his supporter. The BSDM scenes and the sex are very hot and well written. It didn't overpower the rest of the story and I liked that they weren't falling into bed in every chapter. I know that the stories of the other men in the therapy group are going to be the basis for more books in this series and I have to admit I'm looking forward to them. This was a book that I couldn't put down once I started it as it swept me along for a fascinating ride. [...] I have no problem recommending it to just about anyone even if you aren't a big BDSM fan. It's on the softer side of the spectrum and honestly a great starting point if you are a little wary of that lifestyle."
4.5 Stars from Susan of The Blogger Girls Reviews:
"Gabriel is a natural sub, but after his two months of being a tortured POW, and the sole survivor of his team, he is left adrift as the idea of being hit or bound freaks him out. What's a man to do when he can no longer handle the one thing he needs to be grounded. Enter Nick. [...] I loved Nick and by extension that love extended to our broken Gabriel. Nick was the perfect medic, friend, and Dom. He was everything Gabriel needed, every time he needed it. [...] This is a fast and steamy read, even with the heartbreaking scenes, and a very good start to this new series. I really hope we get to meet up with Gabriel and Nick again, I really did connect with them and look forward to seeing what's up next. Overall Impression: I loved it!"
5 Stars from Gay Book Reviews:
"I have to say that is truly an incredible short story about finding a reason to live again. This book was a powerful read about the harsh reality of PTSD and the affects it has on just everyday normal life. For Gabriel, PTSD was debilitating. After being captured while on a mission for the military and tortured and broken both emotionally and mentally Gabriel is just about to the point of giving up completely. [...] Can the man that rescued Gabriel from the hell he went through be the man to now save him from the hell he is living in? Will Gabriel be strong enough to accept the help or will he give up and give in? This read is truly an inspiring read. PTSD is something that a lot of people go through and I believe that any author that writes about the affects of PTSD and does it with love and respect is an amazing individual. I truly enjoyed his read and I cannot wait for he next book in this series to come out because I have a feeling Gideon's story is going to blow the readers away."
4 Stars from Sue of Joyfully Jay:
"Their chemistry is intense, but starting down the road to recovery takes time. Nick challenges Gabriel on multiple levels and makes therapy a requirement of their relationship. With Nick's support, Gabriel begins the fragile business of healing. It will take all of his courage to find himself again and to surrender to Nick absolutely."
Amazon Reviews
4.5 Stars by Light
"Gabriel is suffering from PTSD after he was held captive for months, he was the only survivor of his team. Once a dedicated sub, now he's unable to enjoy the most simple tasks. His wounds run deeper than he first thought, inside out. Ready to give up his old life, he comes across Nick, the doctor who tended him when they first found him. He's attentive, protective and understanding of his needs, just the perfect Dom to guide him.
The BDSM is pretty light compared to other books I've read but it's understandable after what Gabriel went through and in some aspects, it made the story even enjoyable for me. Nonetheless, the scenes of them together are full of sexiness. The characters are loveable and deeply developed. Nick's gentleness towards Gabriel and his dedication to help him get better were admirable. Gabe's broken soul and suffering felt almost tangible at times, so much that I needed to take a breath before I could carry on reading, all I wanted was to comfort him."
5 Stars by Janet Walters
"An emotionally intense story. Well written with appealing characters. PTSD wounded warrior fined a connection and healing with the medic who saved him."
5 Stars by Lydia
"Gabe is broken. After being rescued on a mission, he returns a broken man. At a place he used to always frequent he runs into Nick, a medic on the rescue team. Nick is a Dom, and is looking for a strong submissive. Will this be Gabe or he is too broken for Nick! An absolute amazing story!"
5 Stars by Tanja
"Gabriel is a broken man, suffering from PTSD and desperately needing hope to keep living. Nick once saved him physically, now he does everything in his power to save him mentally. I was grabbed into the story right from the beginning and I couldn't put the book down. It has everything I love to read in a BDSM novel. The characters are really well-developed and the D/s elements are spot on. Nick is a Dom, but such a gentle and understanding one. The way he helps Gabriel and guides him to let go and let his submissive side resurface is wonderful. My heart went out to Gabriel. His pain is so palpable I could feel it. Nick is the one Gabriel needs to help him overcome his PTSD. Nick and Gabriel are just perfect for each other. They complement each other in every way. Their chemistry is sizzling hot but that is not all there is. There is trust and love. This story was way too short. I so wanted to read more about these two men. They crept their way into my heart. It ends rather abruptly on an HFN/not quite cliffhanger. There is a short preview of the next book and I am hoping this will come very soon."
4 Stars by Trebabe
"An interesting read about Gabriel, ex soldier, submissive, survivor of being held hostage for months and tortured. This starts a year after, his body is healed to an extent but the PTSD is driving him to the edge. Meeting Nick gives Gabriel a little breathing space, and the chance to regain some of the trust he needs to allowed himself to be a sub again. I liked the characters and it'll be good to see where this series goes."
5 Stars by Starwarslover
"i adored this book.. i cannot wait to see what happens next.. i loved how much nick was willing to wait and go slow for gabriel to come back to who he is as a person.. i loved the difficulties and the trust.. this was amazing?
4 Stars by Kezbooks
"A word of warning that this story may have triggers for some. It refers to violence, torture and immense suffering. Having said that, it is also a story of a man that would not give up and another who is there to lead the way. I like how the trauma of PTSD wasn't magically cured and that the main character Gabriel had to work for each success. The BDSM worked for the storyline and Nick was patient and understanding. I enjoyed the story but I do realise it is not for everyone. There were times I wanted to reach through the pages and hug Gabe myself. A good read."
4 Stars by Pink in Texas
"Wow this was an intense but great story. My heart went out to Gabriel and his story. I fell in love with Nick and how he was there for Gabriel in every way that he needed him to be. They had a great connection, great chemistry and just fit so well together. My only complaint if you will is that I wish it was longer. I would have liked to have read more about these two. I know this is the first book in a series so I don't know if it will continue with Nick and Gabriel or with new characters from this book. Either way, it is a must read."